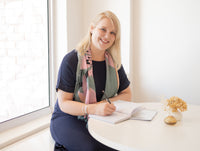 Meet the Bookkeeper
Rachelle is the founder and owner of The Book Keeper Shop. She was born and raised in Springs, a town East of Johannesburg.

After earning her B.Com. Accounting degree, she completed her three years of audit articles as well as her honnours degree in Accounting.

Books, literature and languages have always been her passion. Owning a little independent book shop has been a dream ever since she had set foot in a "real big book store" in London in 1997.

She is married to her best friend and is mother to a pigeon pair.
What a pleasure to have all your questions answered by a well informed lady, Rachelle!
We will be back for more, in the mean time, I am reading 'Die verevrou'!!
Till next time!!!

Magda W.
What a wonderful hidden treasure! A great variety of children's books both in English and Afrikaans and the owner was warm, friendly and super helpful. Can't wait to go back!

Joenita F.
A gem of a bookshop! Rachelle hand picks the books she stocks on her shelves, ensuring a variety of unique bestsellers sure to satisfy anyone's reading taste. This bookshop makes you feel right at home. 

Anandi W.
Location
Please visit our store
The Book Keeper Shop
Cnr  Lynnwood and Meerlust Roads
Pretoria, South Africa, 0184
Mon - Sat, 9am - 3pm 
sales@thebookkeepershop.co.za
Whatsapp: 065 575 1125